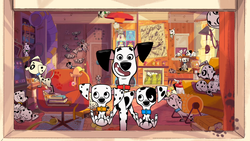 101 Dalmatian Street is an upcoming Disney Channel animated series, based loosely on the 1961 movie, One Hundred and One Dalmatians. It is planned for release sometime in fall 2018.[1][2]
Press Info
One of the big new announcements on Tuesday, and set to roll out around the world from the end of 2018, 101 Dalmatian Street is inspired by Dodie Smith's 1956 novel and Walt Disney's 1961 One Hundred and One Dalmatians. But it is has been updated and moved to contemporary London. It depicts the adventures of eldest dalmatian siblings Dylan and Dolly, parents Doug and Delilah, and ninety-seven younger puppies, all with names beginning with "D", who live all by themselves at the titular address. London's Passion Animation Studios will lead-produce. Maria O'Loughlin writes, Miklos Weigert directs.
Ross showed a first-look development trailer, created by Passion.
"This teaser is the biggest, messiest family comedy you could imagine," he said. Narrated by Dolly, interrupted by Dylan, it showed the parents at their job – dad dalmatian works as firefighter – Dolly and Dylan running the house in their absence, and having fun on the London Eye. Animation looked fast-paced, eye-popping in color and kinetic, featuring knockabout (canine) family fun.[1]
The show is set for 48 eleven-minute episodes, with two double-length special episodes.
Trivia
It will be the sixteenth television series to be based on a Disney animated feature, after The New Adventures of Winnie the Pooh, The Little Mermaid, Aladdin, Timon and Pumbaa, Jungle Cubs, 101 Dalmatians: The Series, Hercules, The Legend of Tarzan, Lilo & Stitch: The Series, The Emperor's New School, Jake and the Never Land Pirates, The 7D, The Lion Guard, Tangled and Big Hero 6.

This will also be the second animated series, based on One Hundred and One Dalmatians, followed by 101 Dalmatians: The Series.

Unlike the first series, which was set in the United States, this one will be set in the book and film's original location, London.
References
↑ 1.0 1.1 "Annecy: Disney Channels Unveils 101 Dalmatian Street, Gigantosaurus, Space Chickens In Space". Variety (June 13, 2017)
↑ "DisneyTVAnimation News Post". Tumblr (June 15, 2017)
Ad blocker interference detected!
Wikia is a free-to-use site that makes money from advertising. We have a modified experience for viewers using ad blockers

Wikia is not accessible if you've made further modifications. Remove the custom ad blocker rule(s) and the page will load as expected.