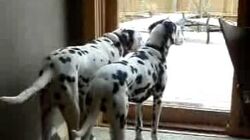 "Dalmatian Plantation" is a song in One Hundred and One Dalmatians and 101 Dalmatians II: Patch's London Adventure by Anita Radcliffe and Roger Radcliffe. Disney Studio Chorus covered "Dalmatian Plantation" on the 2008 CD 101 Dalmatians and Friends. This CD is available on Amazon.com.
Lyrics
Original version
We'll have a Dalmatian Plantation
Where our population can roam
If this new location
Our whole aggregation
Will love our plantation home
Dalmatian Plantation home
Alternate version
This version can be heard on the Disney Read-Along 1982 and 1990 book-and-tape editions of the story.
Dalmatian Plantation, so peaceful and proud
Blue skies and green meadows, no worries allowed
Dalmatian Plantation, good living in view
All hearts are contented with a dream come true

Oh, I love this place for its lazy pace
And its welcome on the door
For 101 different reasons
And soon there'll be more

Our searchin' is over, no more will we roam
Dalmatian Plantation is home sweet home
Bowwww-wowww-wowwwww!
Ad blocker interference detected!
Wikia is a free-to-use site that makes money from advertising. We have a modified experience for viewers using ad blockers

Wikia is not accessible if you've made further modifications. Remove the custom ad blocker rule(s) and the page will load as expected.