See also Cameo's from other Films for similar cases.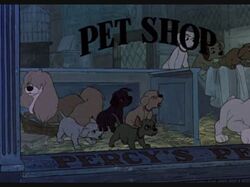 Peg is a Lady and the Tramp character who makes a cameo appearance in the original One Hundred and One Dalmatians movie. She appears in front of the pet shop window during the "Twilight Bark" sequence.
Ad blocker interference detected!
Wikia is a free-to-use site that makes money from advertising. We have a modified experience for viewers using ad blockers

Wikia is not accessible if you've made further modifications. Remove the custom ad blocker rule(s) and the page will load as expected.